The Official Chicago Bears Thread
Posted 05 June 2007 - 07:45 AM
Since most of us are Bears fans, I started this topic so all Bears related material could go in here.



It breaks your heart. It is designed to break your heart. The game begins in the spring, when everything else begins again, and it blossoms in the summer, filling the afternoons and evenings, and then as soon as the chill rains come, it stops and leaves you to face the fall alone." A. Bartlett Giamatti
People ask me what I do in the winter when there's no baseball. I'll tell you what I do. I stare out the window and wait for spring. -- Rogers Hornsby
Final White Sox 2010 Record with fiskfan72 in attendance: 7-6
See you in 2011
---
Posted 05 June 2007 - 02:06 PM
Bears sign Arena League receiver Marshall
June 5, 2007
LAKE FOREST, Ill. —
The Bears on Tuesday signed wide receiver Timon Marshall to a three-year contract. Terms were not disclosed.
Marshall spent the last five seasons in arena football leagues, including the last three in the AFL for the Grand Rapids Rampage, leading the league in 2006 with a team-record 2,374 all-purpose yards.
The Ottawa University (Kansas) alum, became the first player in AFL history to record 1,300 receiving and return yards in the same season after a 2006 campaign in which he caught 102 receptions for 1,324 yards and 19 TDs with 70 kick returns for 1,316 yards and 1 score. The two-way player added 39 tackles with 3 interceptions and 5 pass breakups while also returning 2 missed field goals for 59 yards last season.
This season, before joining the Bears, Marshall led the AFL with 83 kick returns for 1,901 yards and 6 touchdowns. He added 1,134 receiving yards on 102 catches with 27 TDs and ranked 7th in the league with 35 touchdowns (2 TDs rushing). Before joining Grand Rapids, Marshall spent two seasons (2003-2004) in the af2 (Arena Football League 2).
---
Posted 05 June 2007 - 09:17 PM
Go Bears


---
Posted 07 June 2007 - 03:07 PM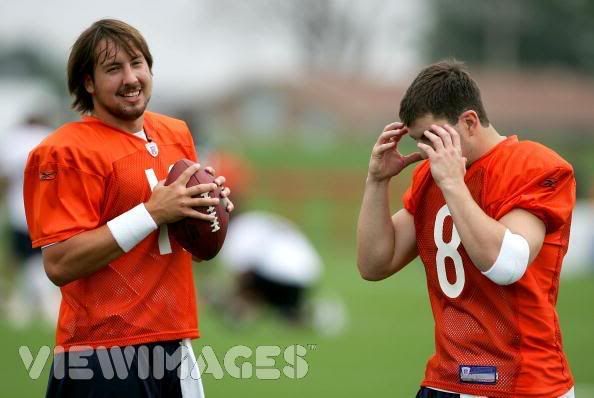 The choice is so clear.

"Not everybody is a perfect person in the world. Everyone kills people, murder people, steals from you, steals from me, whatever."
Terrelle Pryor
---
Posted 07 June 2007 - 10:07 PM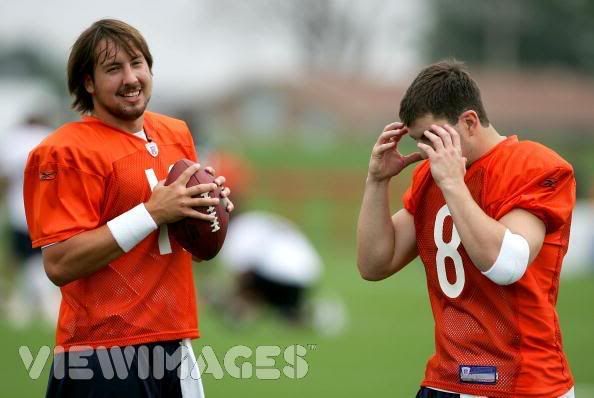 The choice is so clear.
his headache is from having snaps in the shotgun go through his hands and drilling him in the head.
---
Posted 08 June 2007 - 10:39 AM
I still can't believe our "Pro Bowl" center can't snap shotgun...

Erin Andrews Fan Club:

Baron

,

Joe

,

BeanieWells28

,

Atmosphere

,

h00sierjoe

,

Dave,

SoxandCards

Garrett Wolfe Fan Club: Baron
,
whitesoxfan56789
, Joe
The "Scott Linebrink Fellowship" Fan Club:

Baron, diehard-soxfan, Joe, cwsox

, AngelasDaddy0427
The John Danks Fan Club:

Baron, cwsox,

AngelasDaddy0427

,

Gnome



---
Posted 08 June 2007 - 05:57 PM
I still can't believe our "Pro Bowl" center can't snap shotgun...
Maybe he's just lazy.

---
Posted 09 June 2007 - 11:46 PM
Da Bearsssss....

---
Posted 14 June 2007 - 02:45 PM
---
Posted 15 June 2007 - 09:31 AM
Free-agent running back will sign with Titans or Bears
Brown's decision could come soon
By JESSICA HOPP
Staff Writer


Published: Friday, 06/15/07
Chris Brown has narrowed it down. Now it's just a question of Windy City or Music City.
Agent Wynn Silberman said talks continue with the Titans and Chicago Bears and the free-agent running back is "getting closer to closing a deal."
Titans General Manager Mike Reinfeldt could not be reached for comment, but Silberman said the offers are very similar and "it is very possible that in the next four or five days we will have this thing finished."
Brown, a third-round pick by the Titans in 2003, is from Chicago. He started 25 of 26 games in 2004 and 2005, recording six 100-yard games and his first 1,000-yard season in his second year.
Last year, after a preseason request to be traded, he dropped to third on the depth chart behind Travis Henry and LenDale White and played in just five games.
The Bears have a need at running back after trading Thomas Jones, who was coming off consecutive 1,200-plus yard seasons, to the New York Jets.
The Titans lost Henry in free agency and want a veteran in the mix with second-year pro White and rookie Chris Henry.
"There's good possibilities for both sides," Silberman said. "Chris could go to Chicago. It's his hometown; he has family there; he's comfortable there; and there is a possibility they very easily could make another championship run. With Jones gone, Chris could see himself in the role Jones had last year.
"On the other hand, he could come back to Tennessee where he has a good relationship with Coach (Jeff) Fisher; he knows the system; and he could potentially compete for the starting job. That's compelling, too."
---
Share this topic:
---
1 User(s) are reading this topic

0 members, 1 guests, 0 anonymous users